The crypto market had a sudden pullback yesterday after ethereum fell below $1900 and bitcoin fell to below $32K. This pullback led to a price fluctuation for altcoins, and dogecoin was among the coins that retreated below critical support levels. However, the market seems to be recovering, and dogecoin has made some gains.
In the past 24 hours, DOGE has surged by 3.6%, and it is trading at $0.195 on major exchanges at the time of writing.
Dogecoin Price Analysis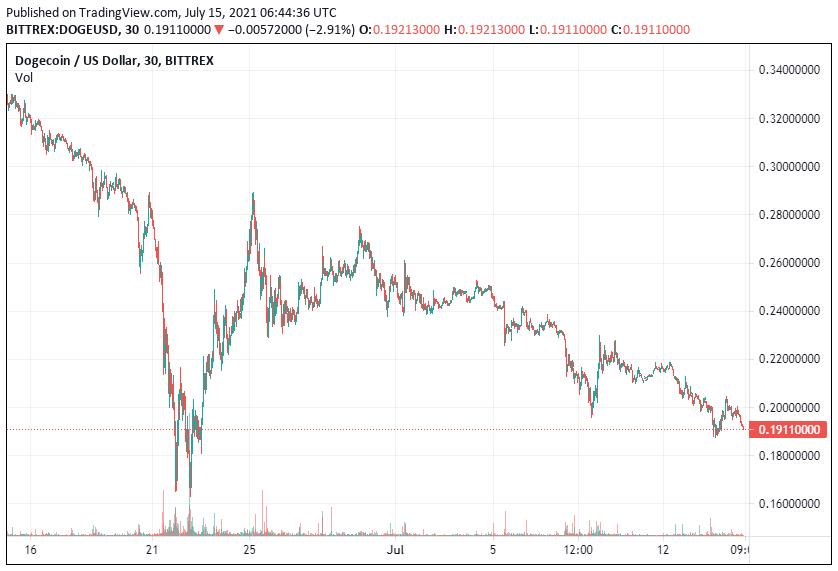 Yesterday's market pullback led to dogecoin retesting critical support levels. The coin fell below $0.20, which signalled that bears were in full play. At this point, the volatility for dogecoin is higher than it has been for weeks.
If the current gains continue, DOGE might retest the $0.22 resistance level. If it is not rejected at this point, an upswing might be recorded, which could push dogecoin to $0.25 and beyond. However, such an upswing will depend on support from the broader cryptocurrency market.
On the other hand, dogecoin's upswing might halt, in which case, a downtrend will come into play. Once this trend happens, the next stop for DOGE will be at $0.15, which might trigger sharper bears as investors sell off to avoid more losses.
In the past month, DOGE has lost more than 36%, and market analysts expect that the downtrend might reach exhaustion, after which bulls will be established.
DOGE is leading the pack among meme coins. The coin currently accounts for around 84% of the entire meme market, with a market capitalization of almost $30 billion. This makes it one of the safest investments for those who want to invest in meme coins.
Dogecoin's creator, Jackson Palmer, recently caused a stir in Crypto Twitter when he bashed cryptocurrencies for what they represent. In his tweet, Palmer stated that "after years of studying it, I believe that cryptocurrency is an inherently right-wing, hyper-capitalistic technology built primarily to amplify the wealth of its proponents through a combination of tax avoidance, diminished regulatory oversight and artificially enforced scarcity."
Cryptocurrency is like taking the worst parts of today's capitalist system (eg. corruption, fraud, inequality) and using software to technically limit the use of interventions (eg. audits, regulation, taxation) which serve as protections or safety nets for the average person.

— Jackson Palmer (@ummjackson) July 14, 2021
Where to Buy DOGE
Those who want to buy dogecoin can do so from a reputable cryptocurrency exchange such as eToro. eToro is a reputable exchange that offers a wide range of features such as low trading fees and a copy trading feature that allows beginner traders to copy the trading strategies of seasoned traders. eToro is also supportive of popular cryptocurrencies and trading pairs.
Looking to buy or trade Dogecoin (DOGE) now? Invest at eToro!
75% of retail investor accounts lose money when trading CFDs with this provide.